Holdem Poker: the 100% Poker Website

Keen to start playing online poker or wanting to improve your skills? Hold'em Poker is the site for you! Hold'Em Poker tells you everything you need to know about poker: its rules, online poker websites, specific strategies for internet poker and the latest news about poker tournaments...
Just starting out? Discover all of the rules of poker before taking your first steps.
Our Guide to Online Poker contains all our advice and tips on how to play on the Internet.
Wanting to take part in the the World Poker Tour or maybe just a free online poker tournament? Discover all of the latest Party Poker tournaments on Hold'Em Poker.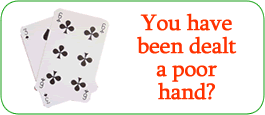 Bluffing: Timing it right
Knowing how to play Poker means knowing how to bluff. Discover all of our tips on how to choose the right moment to unsettle your opponents by bluffing!
Read more >>>
The Flop: call, fold or raise?
In Hold'em poker, the first bidding round is crucial. You must analyse the situation and only commit yourself if you have a genuine chance of winning the hand. Discover everything you need to know about making the right decision.
Read more >>>
The best hands to play before the flop
While all of the starting hands have a chance of winning, it is important to choose those with a positive expectation of winning. Discover the keys to making the right choice.
Read more >>>